Sleeping Bag Ratings Guide
What are sleeping bag ratings?
A sleeping bag is important for keeping you comfortable and warm when you are sleeping outside. Most tents, bivvies and shelters offer very little thermal insulation, but choosing a sleeping bag for the environment you are in can be tricky as there are so many different types.
You need to be comfortable so you can get a good night's sleep without getting too hot, so you start sweating or too cold. However, it is often easier to vent a sleeping bag that is too hot than to further insulate a sleeping bag that is too cold.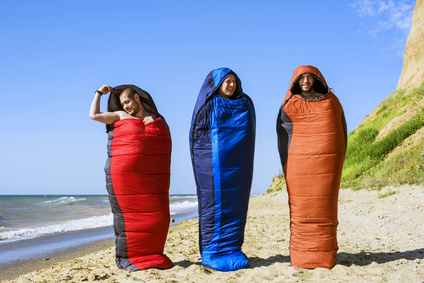 Sleeping bag manufacturers often quote 3 different ratings for their sleeping bags
Comfort, Limit and Extreme.
The ratings give you a guide as to what temperatures you could sleep in without getting too cold or too hot. You may find, though, that only the Comfort and Extreme ratings are shown.
COMFORT: -
The comfort rating gives a range of temperatures that you could sleep in in the sleeping bag and be comfortably warm.
LIMIT: -
Sometimes Limit is referred to as Upper and Lower Limit and defines the maximum and minimum temperature that you could sleep in and be comfortable. Unlike the Comfort Rating, Limit gives the lowest and highest temperatures rather than a range.
EXTREME: - This rating gives you the lowest temperature you could use the sleeping bag in and survive. It does not mean you will be comfortable or get a good nights sleep but you should survive the outside temperature without getting hypothermia, frostbite of any other condition. The extreme rating is useful if the temperature in the place you are camping, may drop below the expected temperature.
You should choose your sleeping bag based on the Comfort rating and the temperatures you expect to encounter. If the temperature does unexpected drop lower, then you have got the Extreme Rating to keep you alive. If you spend your whole trip sleeping within the extreme limit of the bag you are likely to be uncomfortable and not get much sleep.